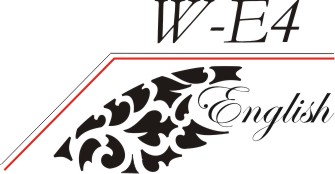 The W-E4 is a 42 key soprano model, measuring only 14 cm/5.59" across. The layout is identical to a tenor english (minus the top 6 notes), but sounding one octave higher. Soprano concertinas are perfect for ensemble playing. Because of the design, it is much louder than playing the same pitch on a standard 48 key instrument. The sound is bright.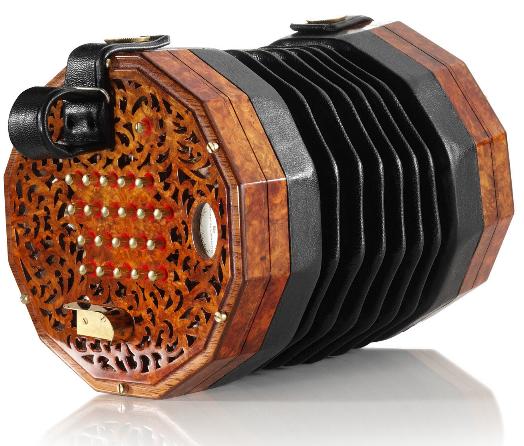 W-E4 with amboyna ends and gold keys/fittings.
Model W-E4 Soprano
Standard configuration:
12 sided

42 key soprano, from middle C to C.

flat ebonized hardwood or veneered ends.

Long scale reeds: steel tongue in individual brass frames

Domed metal keys/delrin® cores.
---
English: W-E1 | W-E2 | W-E3 | W-E4 | Parnassus | W-B51 Anglo: W-A1 | W-A2 | W-A3 | W-A4 | W-A5 | W-A6 | Oversight |
Duet: W-H1 | W-H2 | W-W1 | W-W2 | W-C2 |
Materials: Bellows | Finish | Wood choice | Trim | Technical: Making of an Anglo | Reeds | Custom: Customizing | Custom Made | Projects |
Miscellaneous: Ordering | Testimonials | Contact | Biography |

Wakker Concertinas is a subsidiary of the Concertina Connection Inc. Copyright © 2009-2012 All rights reserved